APPLICATIONS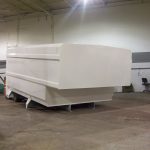 Powder coatings are being applied on thousands of products, and the list is continually growing. Locally, the farm implement industry is a major user, as powder coatings have been proven to be durable enough to handle the extreme conditions where these implements are used. Also the custom steel fabrication industry is a growing user of powder coatings because of the variety and attractiveness of available finishes…
APPLIANCES
The appliance industry benefits from powder coating on front and side panels of ranges and refrigerators, washer tops and lids, dryer drums, air-conditioner cabinets, water heaters, dishwasher racks, and cavities of microwave ovens. Powder coating has also replaced porcelain enamel on many washer and dryer parts.
AUTOMOTIVE
The automotive industry uses powder coating on wheels, bumpers, hubcaps, door handles, decorative trim and accent parts, truck beds, radiators, filters, and numerous engine parts. A clean powder topcoat has been developed to protect auto bodies. BMW and Volvo are using it on their new model cars, and GM, Ford, and Chrysler have formed a consortium to test this technique on their production lines.
ARCHITECTURE/BUILDING/COMMERCIAL
Nowhere else are the benefits of architectural powder coating more evident than on the thousands of commercial, industrial, government, residential and institutional buildings from around the world. For 30 years, powder coating has been the finish of choice for a superior, more colourful, longer lasting and more durable finish. From panels to frames to curtain walls, from windows to railings, exterior to interior, aluminum extrusions to decorative parts, from stadium seating to fencing and pool enclosures, doors, locks, lighting fixtures, outdoor furniture and more, powder coating is specified because of its durability, the unlimited range of colours and textures, the fact that it meets AAMA specifications and because it is an environmentally friendly finishing process, making it an important part of a green building project. Virtually any part and any product in your next project might lend itself to powder coating. Make powder coating a part of your next vision.
EVERYDAY PRODUCTS
There are also innumerable everyday uses for powder coated products such as lighting fixtures, antennas, and electrical components. Farmers have powder coated tractors and farm equipment. Fitness buffs use golf clubs and golf carts, ski pole and bindings, snowmobiles, bicycles, and exercise equipment that are powder coated. Shop owners have powder coated display racks, shelves, store fixtures, and vending machines. Office workers use metal furniture, computer cabinets, mechanical pencils and pens, thumbtacks, and other desk accessories that are powder coated. Parents have powder coated baby strollers, cribs, metal toys, and wagons. And home owners have lawn mowers, snow blowers, barbecue grills, patio furniture, garden tools, electronic components, bathroom scales, tool boxes, and fire extinguishers which benefit from a powder coated finish.